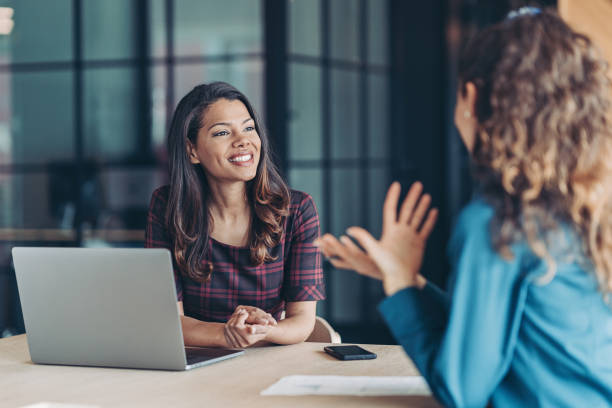 Conducting Performance appraisals
Performance appraisals are typically conducted on a quarterly, semi-annual or on an annual basis and they are used for evaluating an employee's strengths and weaknesses. The purpose of performance appraisals is to make sure that employees are meeting the standard set forth for the position they were hired for. Performance appraisals help instill confidence to employees and provides guidelines for them to reach the standards set for them.
Performance appraisal has three basic functions:
To provide adequate feedback to each person on his or her performance.
To serve as a basis for modifying or changing behavior toward more effective working habits.
To provide data to managers with which they may judge future job assignments and compensation.
The purpose of performance appraisals includes making sure that management is working well in managing employee expectations and career paths, as well as their progress on projects and team fit. Performance appraisals seek to answer the following question:
Are employees meeting their goals?
Are they working well with others?
Is the quality of their work high enough to warrant a raise?
Factors to consider when conducting performance appraisals
Factors to consider vary depending on the role of the employee in the company and these factors include:
Job knowledge
This involves looking at the work experience of an employee, their responsibilities in the organization and whether or not they are motivated to do their job. Job requirements can be compared with existing employee skills and knowledge in order to identify the potential skills gaps.
Quality of work
It involves evaluating the quality of work that an employee contributes to the organization.
Quantity of work
This evaluates an employee's productivity in the workplace. Quantity of work can be measured by the number of tasks that an employee completes in a given time frame.
Teamwork
This involves evaluating how well an employee works with their co-workers in the workplace. This measure can be done by evaluating how they are able to interact and share ideas, observe the ideas and abilities of the other team members and sharing an equal work load with others.
Punctuality
This process involves evaluating the degree to which an employee is on time for work and their ability to meet set deadlines with accuracy and efficiency.
Communication capabilities
Communication includes verbal communication, written communication and interpersonal communication. Evaluating communication capabilities involves identifying the degree to which an employee is able to communicate with their co-workers and superiors.
Leadership
This involves evaluating how well a person can lead the team and show exemplary behavior for employees to follow. Leadership capabilities are especially evaluated for those seeking managerial positions.
Components to include in a performance appraisal
Goals
A goal is a desired result that we seek to achieve. Goal setting involves developing a plan of action that will provide motivation and guidance towards achieving a goal. A goal should follow the SMART framework for setting attainable goals that adhere to an explicit timeframe. SMART goals follow the following characteristics:
Specific: The objective is clearly stated.
Measurable: The goal includes a specific criteria to measure progress.
Achievable: The goal is realistic but challenging.
Relevant: It is clear why the goal is important to you.
Time-bound: The goal has a clearly defined timeline.
Strengths and Weaknesses
Once goals have been identified, a self-SWOT analysis will need to be conducted in order to identify areas for self-improvement and potential external influences.
Key performance indicators (KPI)
A KPI is a quantifiable performance measure for a specific objective over time. They are important to ensure that employees are supporting the overall goals of the organization.
Job Function
This factor involves the systematic collection of information that describes how jobs are done. A gap analysis is then performed to compare the job requirements with existing employee skills and knowledge in order to identify the potential skills gaps. Employees can be observed and examined to assess how often specific tasks are performed, knowledge required to perform these tasks and how best these skills can be acquired.
Benefits of conducting performance appraisals
Career growth
It gives employees an opportunity to express their professional development needs and create a long term development plan in order to advance within the organization.
Motivation
When managers provide positive feedback, it helps employees stay motivated to work harder.
Increases employee engagement
When an employee sees their own value within the organizations, by evaluating how their actions affect the growth of the business, they are more likely stay in the company for a longer period.
Identifies training and development needs
It helps assess whether training may help to improve performance if there is a performance gap. Employees are most likely to be motivated and engaged in their work when they are well trained, developed and rewarded for their performance.
Promotion: Performance Appraisal helps the supervisors to chalk out the promotion programmes for efficient employees. In this regards, inefficient workers can be dismissed or demoted in case.
Compensation
Performance Appraisal helps in chalking out compensation packages for employees. Merit rating is possible through performance appraisal. Performance Appraisal tries to give worth to a performance.
Compensation packages which includes bonus, high salary rates, extra benefits, allowances and pre-requisites are dependent on performance appraisal. The criteria should be merit rather than seniority.
Employees Development
The systematic procedure of performance appraisal helps the supervisors to frame training policies and programmes.
It helps to analyse strengths and weaknesses of employees so that new jobs can be designed for efficient employees. It also helps in framing future development programmes.
Selection Validation
Performance Appraisal helps the supervisors to understand the validity and importance of the selection procedure. The supervisors come to know the validity and thereby the strengths and weaknesses of selection procedure. Future changes in selection methods can be made in this regard.
Communication
For an organization, effective communication between employees and employers is very important. Through performance appraisal, communication can be sought for in the following ways:
Through performance appraisal, the employers can understand and accept skills of subordinates.
Subordinates can also understand and create trust and confidence in superiors.
It helps in maintaining cordial and congenial labour management relationship.
It boosts the morale of employees.
Motivation
Performance appraisal serves as a motivation tool.
Through evaluating performance of employees, a person's efficiency can be determined if the targets are achieved. This very well motivates a person for better job and helps him to improve his performance in the future.
Purposes of employee performance appraisal
1. Ensure employees feel valued
In order to be productive and really at the top of their performance, it's important to regularly check in with them to give feedback that both express your appreciation for their work and helps them understand the impact of their work on the business, which in turn makes them more likely to stay engaged and continue performing well. While performance appraisals do give you the opportunity to offer constructive criticism and address any shortcomings, it also gives you a great opportunity to recognize the hard work of your employees. Some businesses believe that a paycheck and benefits is enough to promote better performance and that employees don't need to be praised for doing the jobs they were hired for, but employees are increasingly becoming more concerned with the quality of their work environment – including relationships with managers and coworkers – with a lower (although still important) focus on achieving a certain salary.
2. Establishing goals
Part of your performance appraisal objectives is to track progress against past goals and give direction for the future. Setting new target goals for your employees during a review helps to motivate your employees towards what's next, as well as help them align on the current strategic goals of the business, particularly if those have changed since the last review. It keeps employers and employees on the same page about expectations; employees also benefit from the confidence they feel when meeting these new objectives.
3. Resolve problems
Whether an employee has a problem with their workload, a teammate, or a project, a formal review gives you the opportunity to work on solving these issues and retaining your team members. It's also a key opportunity to share any grievances you have with their performance or progress.
4. Maintain positive managerial relationships
The best teams are those with the best relationships with their coworkers and managers. A relationship doesn't necessarily mean friendship, but health respect and open communication between parties can go a long way towards enhancing productivity, creativity, and more.
5. Current project and day to day task check-in
Managers don't always get the chance to have regular one-on-one meetings with employees and have oversight on current projects or the problems and successes that employees face along the way. A performance appraisal is the minimum amount of time that a manager should be receiving employee feedback and considering how to address complaints or work good employee suggestions into a strategy.
6. Assess opportunities for promotion, advancement, and raises
A formal employee appraisal gives managers a dedicated space on their calendar to consider a holistic list of employee contributions, strengths, and weaknesses and assess opportunities for advancement is there's a need in the organization that needs filling. Promoting from within not only can save a company on hiring costs but can also greatly increase overall employee morale. It also gives businesses an opportunity to consider additional compensation for a job well done and an incentive for continued performance.
7. Understand training needs
Conversely, employee performance appraisals should give you an understanding of where employees can benefit from more formal feedback or training. This helps you develop employees into stronger business assets rather than dismiss them outright. Not only is hiring and retaining an employee often less cost-effective than investing in current staff, offering training to develop skills can help boost the job performance of someone who's already a good team and culture fit. It's much harder to train for soft skills and culture fit than most other business skills.
One of the most important things to understand about performance appraisals is that once a year reviews aren't really satisfactory in helping you understand the performance of your employees. Performance management systems are meant to help you create more communication and feedback with your employees to benefit both the employer and the individuals. Ultimately, performance management is key in achieving the management responsibility of guiding employees towards the success that adds to the success of the business. By Ashlene Moyo